Our vibrant and active youth ministry feeds the spiritual development of our parish youth through retreats, activities, service projects and more.
We have two youth groups, Mustard Seed for high school students and God Squad for 6th-8th graders. Scroll down for information and schedules for each program.
---
---
Mustard Seed Youth Group for 9th through 12th graders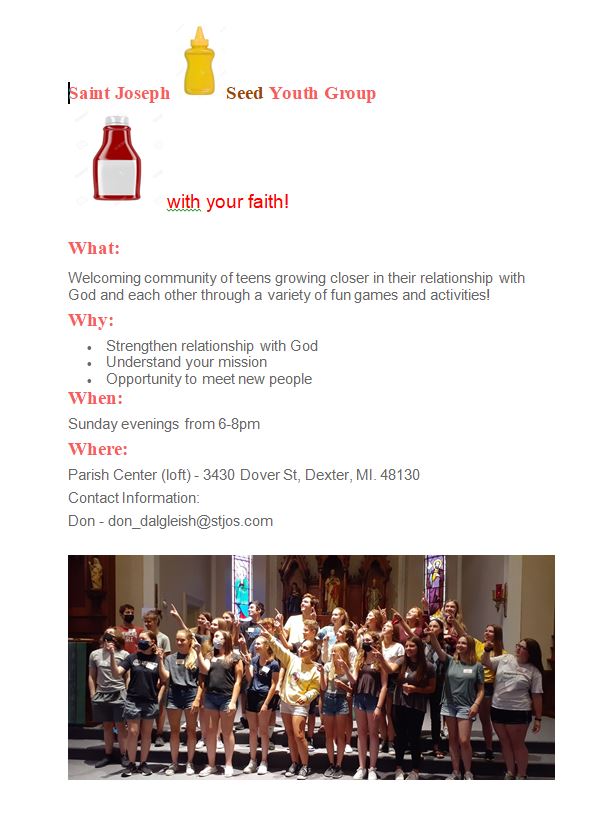 ---
Mustard Seed is the youth group of St Joseph Catholic Parish and is open to all high school teens and their friends. We meet most Sundays in the Loft of the Parish Center from 6-8pm. Our youth group is "come when you can" – there are no mandatory meetings. Many of our meetings are planned and led by the teens on our Leadership Team and the Youth Minister Don Dalgleish.
We have three retreats every year:
Youth Leadership Retreat (for those on the Leadership Team)
Fall Retreat
Winter Retreat
We also attend regional and diocesan events such as the Youth Jamboree. In addition, we perform service projects such as the National Relief Network (NRN) which assists affected areas in response to tornardoes, flooding, and other natural disasters.
Mustard Seed is a place where you can come see and feel the Holy Spirit at work in you and in others.
There is no cost to register for the Mustard Seed program or to attend the weekly meetings but we do need you to register. There are some fees to attend special events, retreats, and/or other special outings.
Keep scrolling down to register online!
2019 Spring Retreat Photos
Click an image to enlarge it and start slider!
---
Follow us on twitter for meeting and special event reminders! @stjosyouthgroup
---
God Squad Youth Group for 6th, 7th, and 8th graders