The music ministry exists to help all who worship at St. Joseph to grow as disciples of Christ, especially through music.
You Are a Minister of Music
A minister makes Christ present. As Catholics, we believe that Christ is present in many ways in liturgical celebrations: in the person of the priest, especially under the Eucharistic species of the bread and wine that become Christ's Body and Blood, in the other sacraments, in his word when the scriptures are proclaimed, and lastly, "when the Church prays and sings, for he has promised, 'Where two or three are gathered together in my name, there am I in the midst of them' (Mt 18:20)" (Sacrosanctum Concilium 7). So—whether you think you sing well, or you're afraid to sing because someone once told you you sing badly​–when you sing at Mass, you make Christ present, just as surely as he is present in the priest, in the Eucharist, and in the Word of God proclaimed.
Jesus Wants You to Be a Disciple
If you are to be a minister, making Christ present to others, you need to be a disciple first. None of us are simply employees, volunteers, or "people in the pews." To make Christ present to others, we must be disciples: we must be in relationship with Jesus and learn from him.
The cost of being a disciple is not small—rather, it is the free gift of your whole life. It is not 10% of your paycheck or an hour or two out of your week—rather, it is to deny yourself, take up your cross daily, and follow him (Lk 9:23). If you participate fully in the music of the Church, according to your role—whether priest or choir member, cantor or director of music ministries, instrumentalist or member of the assembly or bishop—you will be both challenged and strengthened to grow as a disciple.
The Gathered Liturgical Assembly
​"In the celebration of the Mass the faithful form a holy people, a people whom God has made his own, a royal priesthood, so that they may give thanks to God and offer the spotless Victim not only through the hands of the priest but also together with him, and so that they may learn to offer themselves" (General Instruction on the Roman Missal 95). This is the basis for the "full, conscious and active participation" of the faithful demanded by the very nature of the Liturgy (see Sacrosanctum Concilium 14).
Singing is one of the primary ways that the assembly of the faithful participates actively in the Liturgy. We all take part by means of singing acclamations, responses, psalms, antiphons, and hymns.
​Whether you feel good about your voice or not, it is a gift from God—a gift meant to be given back to God in praise. Join in the singing at Mass as fully as you are able. Thank those around you whose song helps you to pray, and pray for them that God will continue to use them to make Christ present to you and others.
Music Ministry Prayer Team
​St. Benedict wrote, "every time you begin a good work, you must pray to God most earnestly to bring it to perfection" (Rule of Benedict prologue). Do you love to pray for others? Please support the parish music ministry by joining our prayer team.
Please include the music ministry in whatever your current pattern of daily prayer may be. You will be contacted occasionally with general and specific prayer requests.
​Here are some sample prayer resources you can use right now. Thank you!
Bless, O Lord, your servants who minister in your temple. Grant that what they sing with their lips they may believe in their hearts, and what they believe in their hearts they may show forth in their lives. Through Jesus Christ our Lord. Amen. (adapted from an exhortation to psalmists on assumption of their duties from the Roman Pontifical)
Seven Ways to Pray for Your Church's Music Ministry (from a resource on praying for various ministers and ministries in your church published by the Assemblies of God)
A Prayer for Musicians by hymn text writer Thomas H. Troeger
Prayers for Church Musicians from the National Greek Orthodox Forum of Church Musicians
Choirs and Ensembles
While the whole assembly must be encouraged to participate actively, the Church also affirms the role of choirs and ensembles. The congregation usually sings in unison—melodies suitable for generally unrehearsed community singing—and this is the primary song of the Liturgy. Choirs and ensembles, on the other hand, are made of people from within the community who possess certain musical skills and a commitment to a schedule of rehearsals and liturgies. For this reason, they are able to enrich the celebration by adding musical elements beyond the capabilities of the congregation alone (see Sing to the Lord: Music in Divine Worship 28). Many choirs and ensembles serve the liturgy at St. Joseph Parish.
The St. Joseph Choir
The St. Joseph Choir rehearses Thursday nights from Labor Day through the Solemnity of the Body and Blood of Christ (late May or early June). During these months, they sing weekly on Sunday morning (primarily at 11:00 Mass), as well as for various special liturgies such as All Souls Day and Christmas.
The choir sings a diverse repertoire of choral music, both with and without instrumental accompaniment.
​New members are always welcome and may join throughout the year. If you already are comfortable reading music notation or learning "by ear," these skills will serve you well in the St. Joseph Choir; if you are not, the choir presents a great opportunity to develop these skills.
The Contemporary Ensemble
The Contemporary Ensemble rehearses Wednesday nights from Labor Day through the Solemnity of the Body and Blood of Christ (late May or early June). During these months, they sing every other week (usually once a month each at 5:00 Saturday and 9:00 Sunday Mass), as well as for various special liturgies such as Ash Wednesday and Christmas.
In addition to singers, the ensemble incorporates a variety of wind, percussion, and stringed instruments. Experienced instrumentalists are welcome, and so are beginners who might be comfortable preparing to play on only one or two songs at a particular liturgy. We sing and play a diverse repertoire of music; selections prepared by the ensemble alone include folk, rock, and praise and worship.
​New members are always welcome and may join throughout the year. The Contemporary Ensemble is a wonderful place to develop your skills as a reader of music notation, as well as your ability to listen musically—you need not be strong in either of these skills when you join, but expect to learn and grow!
The Resurrection Choir
Among the works of mercy, the Church lists comforting the afflicted, praying for the dead and burying the dead. The Resurrection Choir sings at funerals, sharing God's mercy and our hope in the resurrection of the dead.
This group functions as a "pick-up choir," rather than having a regular ongoing schedule of rehearsals. When a funeral is scheduled, those who have expressed interest in singing in the Resurrection Choir are contacted by email or phone, and serve as they are available. Typically, we meet an hour before the funeral Mass to prepare.
​No prior choral experience is necessary. The vast majority of selections sung by the Resurrection Choir are comforting, familiar favorites. Singers and instrumentalists who are unable to commit to the regular rehearsal schedules of the Sunday ensembles, but who are often available on weekday mornings, may find this to be a great way to serve.
The Handbell Choir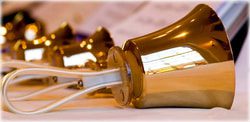 Handbell choirs are a wonderful image of our dependence upon one another as we grow in faith. In any given song, each choir member is plays only two to four bells—but nobody else plays those bells! As St. Paul wrote, "The eye cannot say to the hand, 'I do not need you'" (1 Cor 12:21) Similarly, handbell choir members need each other to play a melody.
We ring a three-octave set of bells. This requires eleven people, but there is also an ongoing need for substitute ringers and for curious newbies interested in exploring this unique way of making music together.
The Handbell Choir rehearses Monday nights from after Labor Day through the Solemnity of the Body and Blood of Christ (late May or early June). During these months, they play at various weekend Masses, about every four to six weeks, sometimes with a cantor and sometimes in collaboration with another choir or ensemble.
​The ability to read music notation is an essential skill for ringing musically as part of a handbell choir. If you don't read music yet, playing in the handbell choir is a wonderful way to learn this skill at a gentle pace.
The Praise Band
This close-knit group of singers and instrumentalists plays a variety of styles of music, with accompaniment including piano, bass, acoustic and electric guitars, and percussion.
The praise band serves at three Masses a month all year, primarily at the 9:00 Sunday Mass. They also form the core accompaniment of all the Palm Sunday Masses. Rehearsal times vary from week to week, scheduled at the mutual convenience of members of the group.
​Because of the nature of the group and its limited size, participation is by audition, and at the discretion of the Director of Music Ministries and current members of the group.
Choir Opportunities for Children and Teens
High school students and eager middle school students are welcome in the St. Joseph Choir, Contemporary Ensemble, Resurrection Choir, and Handbell choir.
The Children's Choir welcomes children of the parish through eighth grade to sing a new song to the Lord! Learn the Mass, make great friends, and get free expert training in vocal technique and music theory. The Children's Choir rehearses on Thursday afternoons from 5:30 to 6:15. They sing for about one Mass monthly during the school year, usually including the REP Mass (typically 5:00 on the first Saturday of the month), plus the earliest Mass on Christmas Eve and the First Communion Masses.
Other Musical Opportunities at St. Joseph
Sound Technician
St. Paul writes, "everyone who calls on the name of the Lord will be saved. But how can they call on him in whom they have not believed? And how can they believe in him of whom they have not heard? And how can they hear without someone to preach?" (Rm 10:13-14) In a large church building like St. Joseph, one might equally ask, "How can they hear without someone to operate the sound system?"
Sound technicians listen attentively during the hour before Mass and the Mass itself, adjusting microphone levels as needed. On occasion, they are also responsible for video, such as playing a DVD or projecting live footage of baptisms for all to see.
You do not need to be a musician to serve in this role, but a careful ear and an understanding of the flow of the Mass are both essential skills.
Training in the operation of the sound board is provided, including on-the-job coaching from current sound technicians.
Cantor
The cantor is a leader of congregational song. Proclaiming the responsorial psalm after the first reading and engaging the assembly in sung prayer is key to this ministry. Although the cantor is sometimes the only voice singing, they are not singing alone, but rather in dialogue or alternation with the congregation or the choir. John the Baptist is a good model for those who serve in this ministry: the cantor points others toward Christ, and always remembers that "He must increase and I must decrease" (Jn 3:30).
Ordinarily, when a choir or ensemble sings a Mass, the cantor is drawn from within that group. There are also occasional Masses during the school year (and many during the summer) where a cantor and accompanist (without a further ensemble) are the primary musical leadership for the congregation.
Rehearsals for cantors are arranged individually with the Director of Music Ministries, and include coaching on being an effective leader of sung prayer.
Instrumentalist
Psalm 150 invites us to praise God "with blasts upon the horn, … harp and lyre, … tambourines, … strings and pipes, … crashing cymbals." Saint Augustine saw these musical instruments as metaphors symbolizing the saints who praise God: "You are the trumpet, lute, harp, tambourine, choir, strings, organ, and cymbals of jubilation sounding well, sounding in harmony. You are all of these" (Expositions on the Psalms, quoted by Pope St. John Paul II, General Audience, 2003-02-26). How good it is to live in a time and place where we can also take this scripture literally, using a wide variety of instruments to praise God!
If you play an instrument and want to put it at the service of God and the parish, we want to find a way to use your gifts. You can join one of the choirs or ensembles that serves regularly, and you can also serve occasionally throughout the year. Both beginners and experienced instrumentalists may serve.
---
Please contact me about being a music minister.