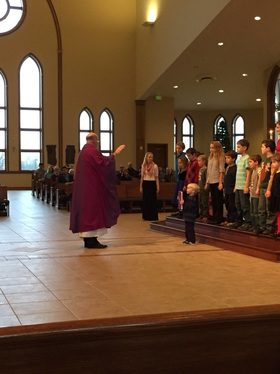 Children's Liturgy of the Word (CLW) is a celebration of the Liturgy of the Word, one of the two parts of our Mass, which is adapted for young children, so the children can better understand this part of our Mass.  Here at St. Joseph, we currently celebrate CLW at the 9 am mass every Sunday during the months of September through June, aside from some Sundays during Christmas and Easter.  We have a team of parishioners who serve as leaders on a rotating basis and have taken part in Protecting God's Children safe environment training through the Diocese of Lansing. 
On Sundays when CLW is offered, Father will ask the children to come forward for a blessing and after their blessing, the children and catechists will process out to the music practice room located out behind the choir. The leaders proclaim the readings and the Gospel to the children from the children's lectionary and allow the children time to respond to God's Word.  They also have simple intercessions.  This is a genuine celebration involving the praise and worship of God; it is not a time to have catechesis or to keep the children occupied.  Children return to their seats as the collection is being taken and one child will process up with those bringing the gifts to return the lectionary to its place.
 We welcome all children ages 4 and older to come and experience CLW.  We welcome parents at this time also, especially if their children would like them to come along to ease any anxiety.  Please note that, as this is a celebration of the Liturgy of the Word, children who are having a difficult time participating will be ushered back to their parents, so that all children may have the opportunity to hear the Word.  We are also looking for adults in the Church (those confirmed and older) to help us proclaim the Word to our younger brothers and sisters in Christ.  If you are interested, please feel free to attend a CLW session at the 9 am Mass to observe, talk to those who proclaim the Word for the children, and/or contact Michelle Hochrein by email or phone (734) 426-2674.